Do What YOU Do Best
Let's be honest. No one's great – or even good – at everything. Even THE Renaissance Man, Leonardo da Vinci, had his shortcomings! (He started many more projects than he ever finished, FYI.) Well-Run Media + Marketing lets you focus on the stuff you do best. We get up in there and learn your business, your needs, your customers and your market. We ask lots of questions. We listen. We find out where your customers look, listen and learn, and meet them there with creative, engaging media, that keeps you and your brand top-of-mind. It's more than "marketing". We start conversations. We listen more. We build relationships. Isn't that the way it's supposed to be?
The Team
DC Lucchesi
founder, thinker, doer of deeds
Creator, collaborator, and serial volunteer, DC forged a background in media, marketing and advertising into a career building brands and creating content for small businesses clients. A writer and storyteller to the core, he also uses his superpowers for good; promoting community health initiatives and charitable events, and building relationships between small business and non-profits. Decaf is his kryptonite. Two wheels are (almost) always more fun than four.
Melissa Brokaw
creative director, purveyor of fun
Clever, sassy, and the team's resident genius, Melissa breaks the mold on that whole right-brain, left-brain thing. An artist at heart, her canvas is the Internet, and her brushstrokes, code. Her gifts go way beyond 1's and 0's, though. Melissa turns our clients' vision into real-life marketing tools, eye-popping social media, and fun-and-functional websites. And that's just her warm-up act. A hard core Panthers fan, she also makes one hell of an Old Fashioned.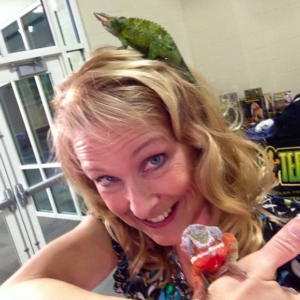 Diana Rugg
pr + content pro
Diana Rugg brings an extra set of eyes and ears to well-run media + marketing.  After 25 years of TV news — 15 of it in Charlotte — she knows the town!  She is putting her writing and social media skills to work for our clients now.  A 2-time All-American swimmer in high school, her passions are competitive swimming, drowning prevention, and advocating great education for all kids — including her own 3. And as a Florida girl, she loves the great outdoors! Especially sand, surf, rocket launches at her Space Coast home, and any pool she can dip her toes into. She earned both her degree in broadcast journalism and her masters degree in Educational Media from the University of Florida. Go Gators!