We couldn't have asked to be surrounded by such incredible people doing some amazing things that have nothing to do with their own bottom line. And it all came together this weekend around the Booty Loop in Myers Park.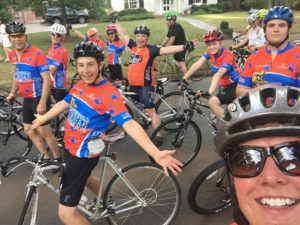 For starters, congratulations to 24 Hours of Booty celebrating 15 years of fundraising for cancer-fighting awesomeness. Another milestone was met, too, when participants bested the fundraising goal with more than $1.6 million. Impressive stuff. Clearly, things like this take many hands and very big hearts to make happen. Mallory Walsh and her staff at 24 Hours of Booty, so many sponsors, friends, and volunteers… it really is a team effort. And that team has quite a roster.
To our long time friend and 24 Hours of Booty founder, Spencer Lueders; well done! Who knew riding around in circles would start a movement that's spread to other cities, create friendships that span across the country, and lead to life-changing programs and services for folks and their families dealing with cancer. This guy's all about community, and he brings that same spirit to his own business, Stone Building Services.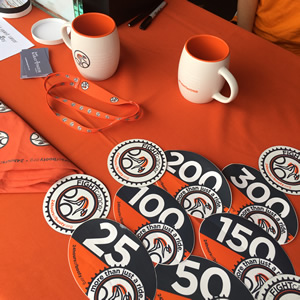 Can't say enough about Scott Dunstan and his crew. Not only does The Dunstan Group produce the award-winning swag for 24 Hours of Booty, the event and its volunteers and riders, he's "all in" on this #FightAsOne mission. Scott's "Spokes 'N Mirrors" team, LIBSTRONG/Drew's Crew, and Team REEB partnered to raise nearly $28K with their pre-Booty event, "Pink to Drink." We were lucky to be a part of the team to help promote the event that hit new highs in participation and dollars.
Bicycle Sport is back in the Loop with Booty, and we couldn't be happier that these two are together again. Ben Cooley is a class act all the way, and so many of the shop's clients and friends are supporters, riders, and serious fundraisers. The guys brought more than just wrenches, tires, and tubes to the event; hosting pre-event pint nights, providing bikes for out-of-town guest riders, getting up for early-morning TV live shots… all those intangibles that aren't in a written contract.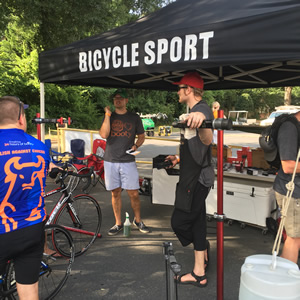 Our man Bill Bartee at Jesse Brown's knows a thing or two about supporting a good cause. His brand is on the front or side of several team jerseys – including ours – and his big YETI Cooler full of outdoor goodies was the headliner for one of the single biggest raffles leading up to the event. You probably heard all about it on the Carolina Outdoors Podcast, didn't you? (Now you know where to get the scoop!)
And yes, we have to give a shout out to our team, the Cotswold Cougars Cycling Club. (No, not that kind of cougar.) Our little neighborhood squad has been with 24 Hours of Booty since the early days, and regularly sports the likes of some of top fundraisers. This year being no exception. Way to go, y'all!
Many thanks, too, to Jenni Klein Walker for including us and our friends in the fun, and welcome to new office mate Jonathan Cuevas and Texcido to the 24 hours of Booty family. How did we get so lucky to roll in such inspiring circles?